Location
Anakiwa Lodge is located approximately midway between Picton and Havelock. It takes around 35 minutes relaxed driving from Picton to Anakiwa and about 25 minutes to travel from Havelock, both via the scenic Queen Charlotte Drive.
Driving through to Blenheim takes around 60 minutes via Havelock and we are approximately 1 hr 30 min from Nelson using the main State Highway 6 and turning onto Quuen Charlotte Drive at Havelock.
See map below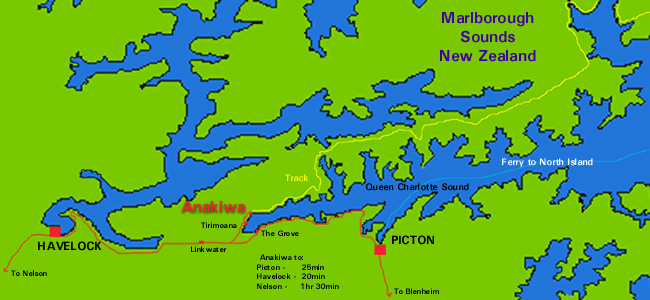 Shuttle Transport
Anakiwa to / from Picton/Havelock
$ 30.00 per person ($50.00 minimum)
We can provide specific pickup/delivery to/from Picton ferrys/train/bus at $30 per person each way, with a $50.00 minimum for the 35 min vehicle trip, to avoid the need for a rental car. These travel arrangements need to be prearranged with us at the time of placing/confirming your booking. They are specific trips to suit your travel schedule - there is no regular shuttle at the lodge.
Local Airports to / from Anakiwa
For those on a busy schedule, we frequently collect and deliver guests to Sounds Air in Picton or Air NZ - Blenheim (Marlborough) Airport to meet their flights as required. We can note this transfer on your booking as required.
Walking the Queen Charlotte track with car storage
Many guests stay with us for the first night, leave their car with us at no charge and we transfer them to meet the water transport in Picton. Their car is ready for collection in Anakiwa at the end of the Queen Charlotte walk.
Alternatively, if you are walking the Queen Charlotte Track, you can use one of the local water transport services to drop you a at convenient point on the track and walk down to Anakiwa Lodge. We can then arrange road or water transport back to Picton as required.
Please note there are no water taxis from here in Anakiwa out to ship cove. All ship cove water taxis leave directly from Picton waterfront.